Valentine's Day is just a week away, and though I imagine M and I will stay in or do something low key (that's how we roll...plus, crowds make me stabby), I still ponder the perfect outfit for a Valentine's date. While most nights in generally consist of me curling up under a blanket in PJ pants, a giant sweatshirt and my hair in a ragamuffin bun (poor M...), I think it's nice to dress up for a proper date, even if you're just cooking together and dining quietly as a couple. My rule of thumb: if we're eating at the table, comfies can wait; if we're eating in front of the TV, bring on the stretchy pants!
I typically avoid looks that are too cutesy or precious (because I'm petite and want to avoid pats on the head and cheek pinches), so in the spirit of V-day, this ensemble captures the flirtiness of the occasion while still managing to be simple and appropriate for a domestic date...
No-nonsense pieces, kissable lips and shimmery skin...all good things. Valentine's Day is a romantic day, indeed, and tasteful styling can still be incorporated into an ensemble fit for gazing into each others eyes and holding hands over candlelight. (Such a girl, seriously.) This dress is romantic while providing coverage, and these wedges will do wonders for the legs. There is more than enough going on here to convey feminine beauty without flashing too much skin, especially if you couple this look with a heartfelt love letter (to your man, your bestie, your parents, whoever you chose to love on this year!) and an environment cultivated with care and warmth. Now that's sexy, y'all.
Side note: if y'all haven't already, be sure to check out Anna's weekly installments of True Beauty Files over at In Honor of Design. It's so encouraging to see her adorable looks (as well as those of the many gals who link up with their creations) and reminder that you can be classy and fashionable.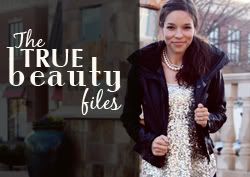 What will you be wearing this V-day? (Sweat pants and a tee is a perfectly acceptable answer, yo.)